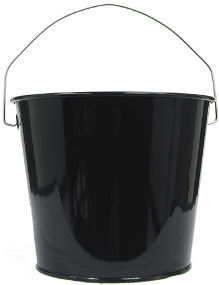 This Pail measures:
7 1/8" Height
11" Height with Bail
8 5/8" Top Diameter
6 5/8" Bottom Diameter
Ideal for crafts, gift baskets, or decorative arrangements. Fill them with candies, dried or plastic flowers or gifts for a shower, house warming party, table decoration or as a door prize. Great for kid's crafts or projects! Please note: This pail is not watertight.

5Qt. capacity
Available in single, case pack, wholesale and pallet quantities.
Please call for information and pricing on wholesale and pallet quantities.
Case Pack contains (12 Pails)
*Assembly of handle is required
Order Item
Item

Item #

Price

Weight

Buy

5Qt. Glossy Black Pail

Osk5gb

$8.99

1.5 lbs

5Qt. Glossy Black Pail Case Pack
(12 Pails) - $6.79 per pail

Osk5gbx12c

$105.48

16 lbs

Clear Plastic Lid for 5Qt. Pail

Osk5qtlid

$0.99

0.2 lbs