5 Gallon Food Grade Bucket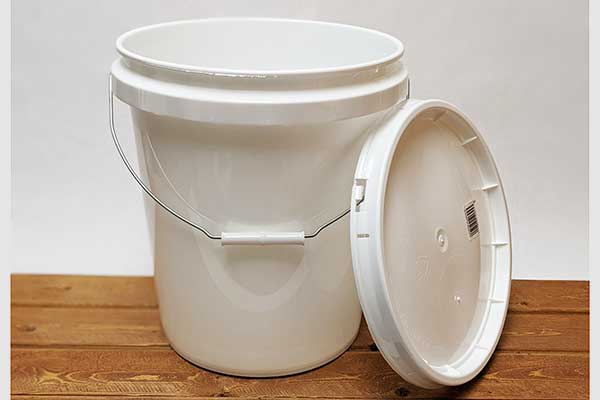 Click image to zoom in
Click style to select a different style


Dimensions(inches):

Height: 13 5/8 inch
Handle Height: 19 1/2 inch
Top Diameter: 11 7/8 inch
Bottom Diameter: 9 7/8 inch
Overall Width: 12 5/8 inch

Select Style:

5 Gallon Food Grade Bucket with Strip Tear Lid
C6409445,C2497634
Qty:
$

These 5 gallon food grade buckets and lids are USDA approved for safe food storage and are BPA Free. HDPE #2 food grade plastic is rugged and tough. Walls are built with uniform thickness for stacking strength. The reinforced Saturn rings prevent rim distortion. Made in the USA. Order with or without a snap-on storage lid or a gamma lid. The easy-to-open double-gasket gamma seal lid creates a leak-proof food storage container. Go ahead: pick up 50 more pounds of dry beans, 25 pounds of rolled oats, and 25 more pounds of dry lentils. Seal them in a 5 gallon food grade bucket. If a wind storm knocks out power for a few days, or when you experience another major natural hazard, you will have food and be the ones to help others. Snap on lids are best for storing dry products requiring constant access. Snap on lids are easily removed and resealed. For dry, lightweight products requiring constant access. Non-gasket cover is easily removed and resealed. Food grade buckets with are available in 3.5 gallon food grade bucket sizes.

We also offer Mylar Food Bags, Oxygen Absorber Packets & a Rubber Mallet Hammer to accessorize your food grade bucket.
Your order ships same day if ordered before 2 pm EST Monday-Friday to arrive anywhere in the Contiguous United States within two to seven business days of our receiving your order. This item may be shipped to Canada, Alaska, Puerto Rico and Hawaii and arrives within eight to fourteen days.

How many pounds of oats fits in a 5 gallon bucket?
What does 25 lbs of rolled oats really look like? When a five gallon bucket is filled with dry rolled oats there's a little extra. We put the extra bulk oats in half gallon jars to give to our friends and neighbors. Regardless, a 25 lb of rolled oats fits pretty nicely in a 5 gallon bucket.