Crock Lids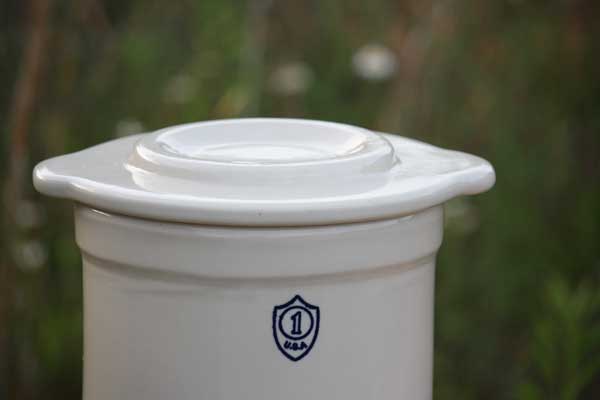 Click image to zoom in
Click size to select a different size


Dimensions(inches):

1 Gallon:
Height: 1 1/2 inch, Diameter: 10 inch
2 Gallon:
Height: 1 1/2 inch, Diameter: 12 inch
3 Gallon:
Height:1 1/2 inch, Diameter: 13 inch
4 Gallon:
Height: 1 1/2 inch
5 Gallon:
Height: 1 3/4 inch, Diameter: 13 3/4inch
10 Gallon:
Height: 2 inch, Diameter: 17 1/4inch

Select Size:

1 Gallon Crock Lid
Opco11600
Qty:
$

Our crock lids are made of hand-finished glazed stoneware that prevents open-air contamination and keeps mold and aerobic bacteria from tainting your fermenting food. These stoneware crock lids are available in six sizes, which fit the 1 to 10 gallon stoneware crocks. Crock lids are made in America, lead free, chemical free, durable, food-safe, and easy to clean. Allow fermentation to take place in a cool place because warm air encourages surface mold. Lids may fit ceramic crocks from other manufacturers check the measurements before ordering.

We also carry wooden lids for crocks and ceramic pickle weights.
Your order ships same day if ordered before 2 pm EST Monday-Friday to arrive anywhere in the Contiguous United States within two to seven business days of our receiving your order. This item cannot be shipped to Canada, Alaska, Puerto Rico and Hawaii.