Oval Metal Bin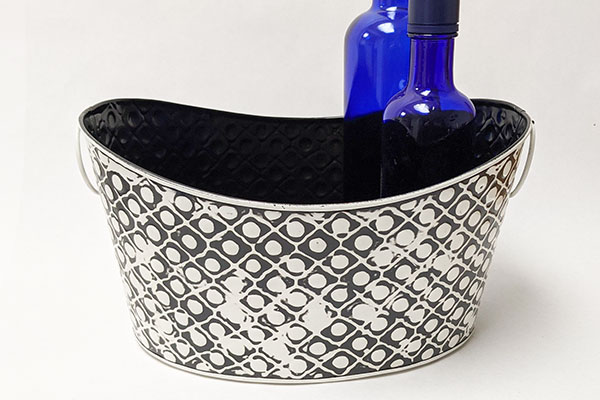 Click image to zoom in


Dimensions(inches):

Top length: 12"
Top Width: 9 1/8"
Center Height - 5 1/4"
Side Height - 6 1/4"
Bottom width: 7"
Bottom length: 10"
Your order ships same day if ordered before 2 pm EST Monday-Friday to arrive anywhere in the Contiguous United States within two to seven business days of our receiving your order. This item may be shipped to Canada, Alaska, Puerto Rico and Hawaii and arrives within eight to fourteen days.

This oval metal bin features a black inside with an aged white washed patina embossed on the outside. The rim of the bin is uniquely boat shaped featuring pleasurable smooth curves. This metal bin is excellent for storing almost anything smaller than a breadbox. The curves will highlight the contents. The antiqued imperfect pattern features circles inside of diamonds. The circular handles make carrying and accessing this storage bin a breeze. Four rubber feet attached to the bottom protect surfaces. Great for country kitchen and bedroom decor this oval metal bin is a delight to look at.

Note: These bins are not guaranteed to be watertight.

You might also like:
Small square herb planters in copper and galvanized.
Square galvanized planting buckets in two sizes.
Or a nice large square copper bin.