Paint Mixing Cups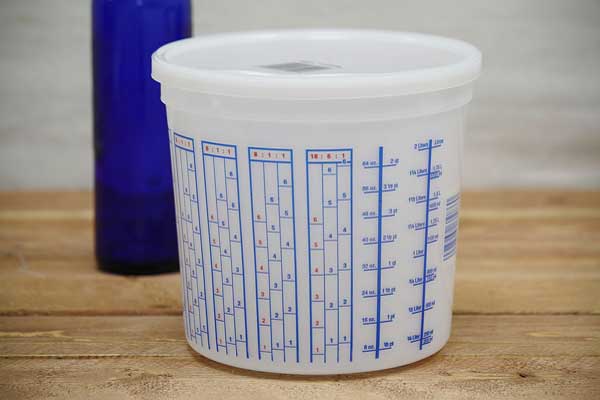 Click image to zoom in
Click style to select a different style


Dimensions(inches):

5 Quart:
Height: 6 5/8 inch
Top Diameter: 8 3/8 inch
2 1/2 Quart:
Height: 6 inch
Top Diameter: 6 3/4
1 Quart:
Height: 5 1/4 inch
Top Diameter: 4 1/2 inch

Select Style:

2.5 Quart Paint Mixing Cup with Lid
C7778681,C6022107
Qty:
$

These paint mixing cups are semitransparent and strategically labeled with liters, ounces, pints, and ratios to allow for precise measurements when mixing paint. They are made of solvent-resistant plastic and are safe to use with all paints, pastes, and adhesives. Three paint mixing cup sizes for professionals and creating do-it-yourself masterpieces. Plastic paint containers can be ordered with or without storage lid. Quick shipping from Virginia. The 16 ounce cup features just milliliter and ounce liquid measures. Made in the USA. We also offer small paper paint mixing containers.

Note: Mixing ratios: 3:1:1, 3:1:5%:10%, 4:1:1, 4:2:1, 4:2:2:1, 5:1:1, 6:1:1, 8:1:1, 18:6:1
Your order ships same day if ordered before 2 pm EST Monday-Friday to arrive anywhere in the Contiguous United States within two to seven business days of our receiving your order. This item may be shipped to Canada, Alaska, Puerto Rico and Hawaii and arrives within eight to fourteen days.