White 5 Gallon Bucket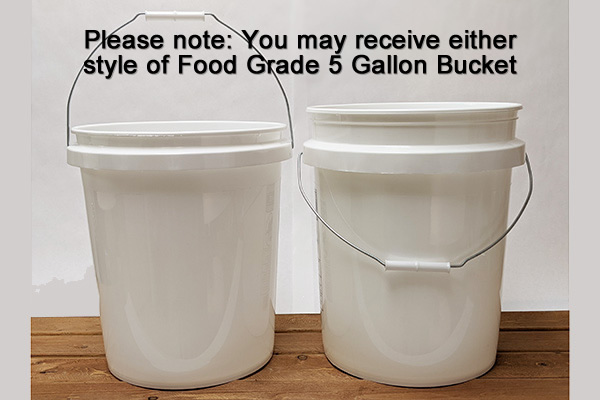 Click image to zoom in
Click style to select a different style


Dimensions(inches):

Height: 13 5/8 inch
Handle Height: 19 1/2 inch
Top Diameter: 11 7/8 inch
Bottom Diameter: 9 7/8 inch
Overall Width: 12 5/8 inch

Select Style:


There's nothing more all-purpose than a white 5 gallon bucket. Order with or without lid. Use this bucket to store your dried beans and oats. This is also a popular bucket for painting, camping, keeping things dry, seating, hand washing, tool storage, and all chores or utilities. Designed with reinforced rings around the top to prevent rim distortion. Uniform walls are thick for premium stacking strength. Designed for stackable storage. This 5 Gallon Food Grade Bucket is made from HDPE food grade plastics. Made in the USA. If this white 5 gallon bucket is too pure for you, check out this black 5 gallon bucket and this 5 gallon camo bucket.
Your order ships same day if ordered before 2 pm EST Monday-Friday to arrive anywhere in the Contiguous United States within two to seven business days of our receiving your order. This item may be shipped to Canada, Alaska, Puerto Rico and Hawaii and arrives within eight to fourteen days.