2 Gallon Crock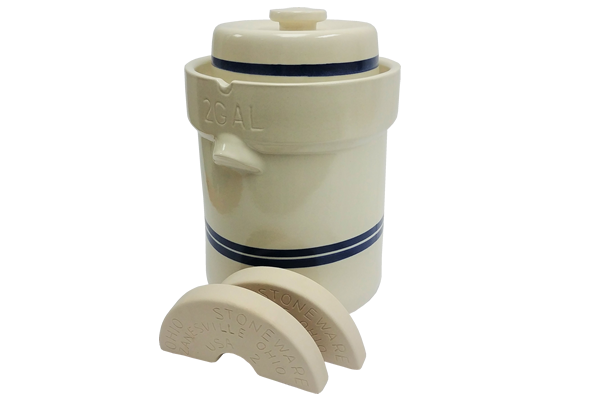 Click image to zoom in


Dimensions(inches):

Height: 14 inch
Diameter: 10 inch


This traditional crock is made in America with a hand-finished stoneware glaze. Place prepared cabbage, cucumbers, and vegetables into the crock, using the included crescent weights to submerge the contents, fill the gutter rim, and add the lid. The ingenious design of this crock allows carbon dioxide to escape while keeping air and unwanted microbes out. Fermentation gives fermented foods their zing; it also delivers probiotics, B vitamins, omega-3s and digestive enzymes that strengthen our digestive and immune health.

This fermentation crock contains no lead or harmful chemicals. It is dishwasher, microwave, oven, and freezer safe. Glazed stoneware is a breeze to clean and sanitary. Expect each piece to have slight variations in shape, color and texture due to the natural process of pottery making.

For more options, see the traditional stoneware crocks available in 6 sizes.
Your order ships same day if ordered before 2 pm EST Monday-Friday to arrive anywhere in the Contiguous United States within two to seven business days of our receiving your order. This item cannot be shipped to Canada, Alaska, Puerto Rico and Hawaii.